The unique and exciting properties of Graphene are well known, but the key to its successful adoption in real industrial systems is enabling its addition in a form that is not only easy and safe to handle but optimised to ensure the maximum performance levels of this game-changing material. AGM has developed an industry-leading position in the dispersion of graphene nanoplatelets.
The Genable® products, utilising AGM's proprietary technology, comprising of more than 25 individual user-friendly dispersion. Each product is formulated to ensure long term in-can stability without the risk of graphene and easy incorporation into both new and existing industrial product developments, thus enabling industry formulators to consistently access the exciting performance attributes of AGM's graphene nanoplatelets.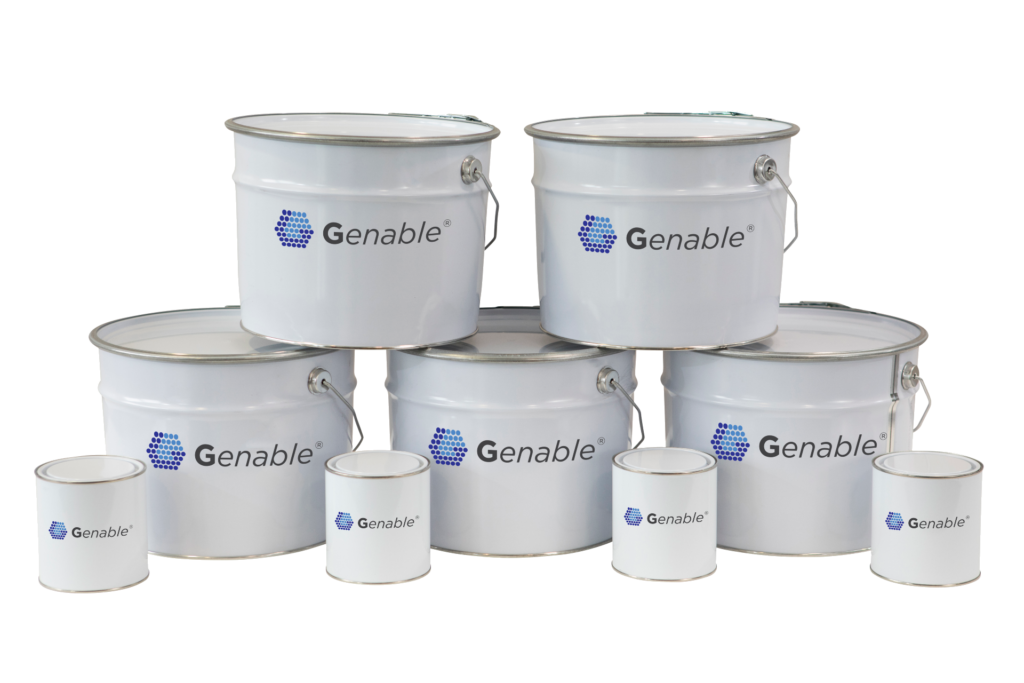 The Genable® dispersion product ranges deliver graphene nanoplatelet's breakthrough performance enhancements to a range of application including paints and coatings, batteries and energy storage, polymer composites and lubricants, car waxes and polishes.
AGM offer a selection of different Genable® dispersions optimised to meet a variety of application needs.
Genable® 1000 Series

A range of reduced graphene oxide nanoplatelet dispersions

Paints & Coatings: Additives to enhance barrier and anti-corrosion performance in coating systems in synergy with existing active ingredients.

Composites: Dispersions in epoxy resin to enhance the key properties of fracture toughness, resin modulus and interlaminar shear strength in FRP materials.
Genable® 1200 series

A range of graphene nanoplatelet dispersions

Paints & Coatings: Extremely high-performance additives to enhance barrier and anti-corrosion properties at very low active loading levels.

Composites: Dispersions in epoxy resin to enhance the key properties of fracture toughness, resin modulus and interlaminar shear strength in FRP materials
Genable® 1400 series

A range of reduced graphene oxide nanoplatelet dispersions

Paints & Coatings: Cost-effective additives to enhance barrier and anti-corrosion performance of especially in synergy with active ingredients

| | | |
| --- | --- | --- |
| Description | Matrix | Technical Data sheet |
| Genable® 1400 | Epoxy EEW (190g/eq.) Resin | Available on request |
| Genable® 1401 | Epoxy EEW (250g/eq.) Resin | Available on request |
| Genable® 1431 | Xylene | Available on request |
| Genable® 1432 | MEK | Available on request |
Genable® 2400 series

An optimised range of graphene nanoplatelets dispersion

Paints & Coatings: Delivers outstanding active passivation and barrier anti-corrosion performance tailored for aluminium substrates coatings

| | | |
| --- | --- | --- |
| Description | Matrix | Technical Data Sheet |
| Genable® 2400 | Epoxy EEW (190g/eq.) Resin | Download TDS |
| Genable® 2401 | Epoxy EEW (250g/eq.) Resin | Download TDS |
Genable® 3000 series

Active, non-metallic, anti-corrosion additives

Paints & Coatings: Delivering industry-leading anti-corrosion performance for high-end environments

| | | |
| --- | --- | --- |
| Description | Matrix | Technical Data Sheet |
| Genable® 3000 | Epoxy EEW (190g/eq.) Resin | Download TDS |
| Genable® 3001 | Epoxy EEW (250g/eq.) Resin | Download TDS |
Genable® 4000 series

Low density thermally conductive pastes for use in aerospace applications

| | | |
| --- | --- | --- |
| Description | Matrix | Technical Data Sheet |
| Genable® 4300 | Epoxy (2 part with amine hardener) | Download TDS |
| Genable® 4400 | Epoxy (2 part with amine hardener) | Download TDS |