Standalone Corrosion Protection
AGM uses patent-protected technology to produce both the standard Genable product ranges and custom dispersions to meet everyone's needs.
Easy to handle

and incorporate into existing industrial systems
Long-term

stability

of standard dispersion products

Optimised

dispersion properties design for specific final application
Enabling industry to benefit from the potential of graphene in a

simple

,

safe

and

easy to formulate

way.
Why innovate with graphene?
Adding graphene as a complimentary additive to the existing range of anti-corrosion products can extend the life of these coatings. Incorporating a graphene nanoplatelet dispersion from AGM is simple – just add and stir!
You can offer your customers a heavy metal free, environmentally friendly alternative to zinc based chemistry.
Working with AGM adds value for you as the coating innovator, as well as extending the service life of the coated asset – A true Win-Win!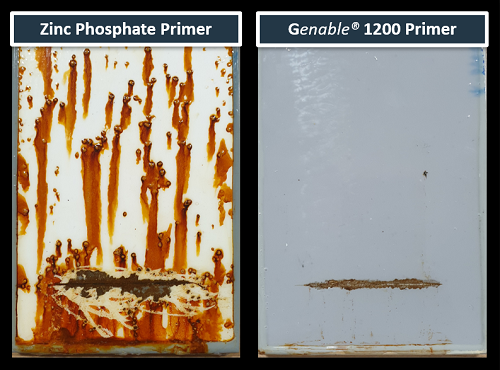 Customer Success Stories
Halfords Graphene Anti-Corrosion Primer
The customer identified an innovative way to improve their existing primer paint for automotive repair applications, which was a basic vinyl/acrylic based paint with limited anticorrosion performance.
AGM's Genable dispersion was tested at loading levels between 5% to 20% w/w on the total formulation and a successful corrosion primer was developed for sale through industry-leading Halfords Stores and Online.
Outstanding

Anti-Corrosion

Protection

No Impact

on other Physical Properties

Easy to Use

and

Economically Viable

for the DIY Consumer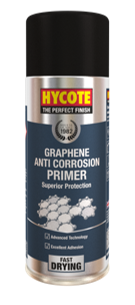 HYCOTE Graphene Anti-Corrosion Primer
Utilising AGM's graphene nanoplatelet technology, innovative company James Briggs launched an automotive anti-corrosion respray primer offering market-leading performance.
Increased Corrosion Resistance by

300%

Zinc Free

– no Zinc Phosphate or other heavy metals
Excellent

Adhesion

and

Flexibility
Following the completion of the formulation development work, AGM continued to support James Briggs' development with a forerunner to our Innovation Accelerator development programme by running the coated panels in AGM's prohesion salt spray cabinet – the result was OUTSTANDING.