The world leader in graphene nanoplatelet dispersions for industrial applications
Universal Matter GBR Ltd (formerly Applied Graphene Materials) is proud to be a leading innovator in graphene dispersion and application technology. Quite simply, we are graphene. We are proud to be the industry-leading organisation that is truly harnessing the potential of graphene in real-life products and materials. Taking a substance that is difficult to work with and creating stable, standard dispersions that are easy to formulate with and produce consistent, reliable results for customers.
We are experts in helping our customers choose, or create, the perfect graphene nanoplatelet dispersion to meet their needs.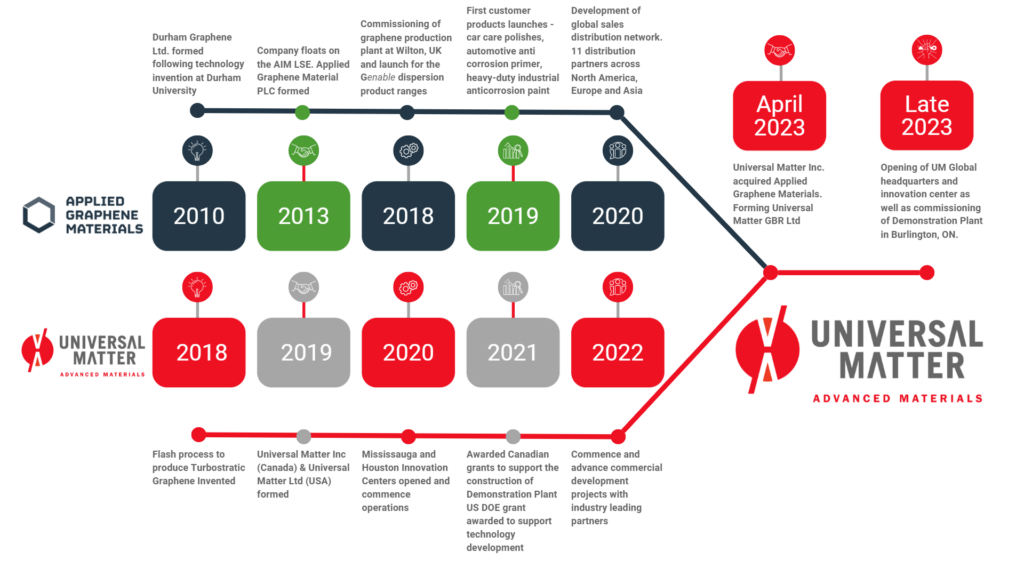 Founded by Professor Karl Coleman in 2010, our unique operations and processes are based on the technology he initially developed at Durham University. Using our patented process, our production facility, based in the North of England, produces high quality graphene nanoplatelets and dispersions that our customers can rely on.
Since those early days, UM GBR has made major technology advances in the application of this new class of materials, adding performance-enhancing characteristics to a range of product categories, working with technology and product development partners across the globe, including internationally-known household brands.

Now in our second decade, UM GBR continues to lead the field of graphene dispersion, with global distributors working with customers across the world and in fields as diverse as paints and coatings, car care, batteries and energy storage and polymer composites. 
To find out more about us and how our industry-leading graphene dispersion technology can enhance your industrial coating, composite or functional fluid, contact the team here.
We're proud to be members of The Graphene Council, the Graphene Engineering Innovation Centre at the University of Manchester, the Nanotechnology Industries Association (NIA), The North East Chamber of Commerce, the British Coatings Federation, the American Coatings Association (ACA), OCCA, NEPIC, NOF and Composites UK.