Sustainability and the Environment
In addition to our in house established structure, policies and guidance, we have engaged more fully as an organisation with the process of sustainability action.
As part of this, we are committed to the broader process of continuous improvement to align with the principles of the UN Sustainability Development Goals (SDGs) and have completed an initial assessment to determine where we can engage with the potential for positive impact with SDG principles. We have completed this review using the Global Reporting Initiative (GRI) metrics which will allow us to develop a roadmap for impactful opportunity.
The United Nation Sustainability and Development Goals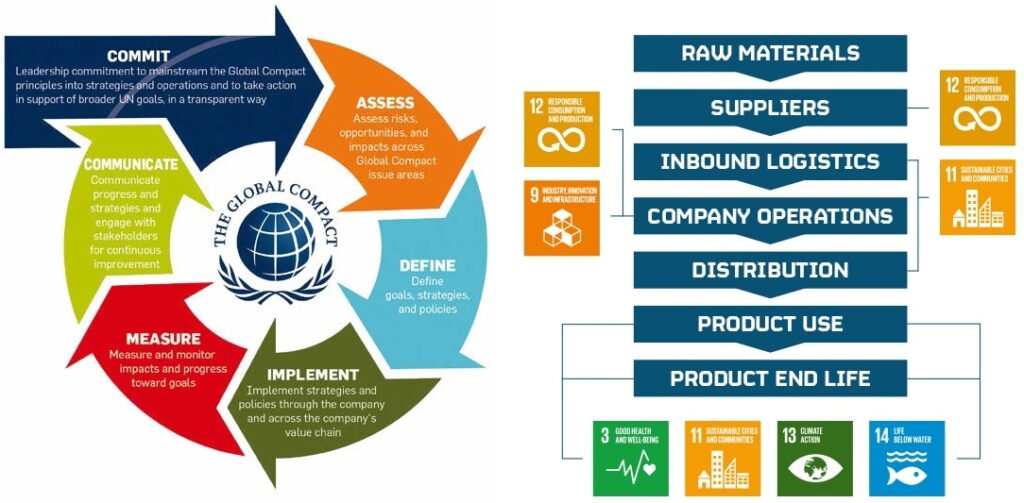 AGM's products lend themselves to enhancing the materials they are added to. This is through the remarkable properties that graphene nanoplatelets are able to deliver using our dispersed materials product offerings. The performance gain is not just immediate – there can be a positive impact on life cycle costs for products in the high performance protective coatings, advanced composites and speciality adhesives sectors. Extended product life cycles manifest themselves principally in graphene enhanced materials that last longer – evidenced, for example, with the Alltimes' Advantage Graphene extended product warranty from 20 to 30 years. Read more about our Customer Success Stories here.
The potential benefit for asset owners arising from a reduced maintenance cost burden and increased asset utilisation is significant as a result. We, therefore, see that graphene has an important and exciting role to play in the opportunities we are pursuing for environmental and sustainability benefits.
Outside of our product utility, we take our obligations seriously in the way we manage our business and our relationships with all our stakeholders.
Introducing the NEW

G

enable 1700 Series of eco-friendly graphene dispersions
Materials suppliers are being driven to invest in biobased innovation as customers and their end consumers become increasingly aware of the safety and environmental impact of the raw materials they use. Growing pressure to comply with stringent health and safety legislation and demonstrate a reduced environmental impact is forcing manufacturers to progressively introduce bioderived alternatives to traditional chemicals.
AGM now offers a more sustainable alternative to traditional additives that will improve the sustainability of your products without compromising on performance. The launch of this new sustainable range for customers reflects AGM's own sustainability commitment to continuous improvement to align with the principles of the UN Sustainability Development Goals above.

The new 1700 series of environmentally-friendly graphene nanoplatelet dispersions are based on the Company's well-established Genable technology, which is proven to deliver significant performance uplifts such as chemical resistance, barrier and anticorrosion properties.
Genable 1700 dispersions are available for sampling evaluation in a selection of certified, award-winning solvents and resins. Find out more here.
To find out more about AGM's responsibilities and our commitment to our employees, our local communities and the environment around us, please get in touch through our contact page.